LANCE THE LOCKSMITH
Securing the Wellington regions of Petone, Wainuiomata, Lower Hutt, Upper Hutt and Porirua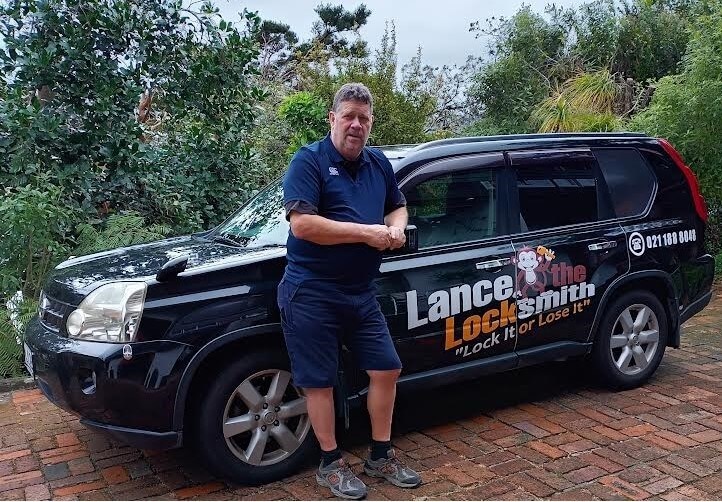 "Lance the Locksmith" is a family-owned business serving the Wellington regions from Petone and Lower Hutt through to Upper Hutt.
Lance is a licensed, bonded and insured locksmith with over 40 years' experience. He provides experience and dependable locksmith and security services for residential or business customers.
At Lance the Locksmith, we offer you a comprehensive range of mobile locksmith services. Our competitive pricing and outstanding service separate us from the pack.
Lance the Locksmith is a Top-Tier locksmith company and we get the job done right the first time.
Residential and Commercial Locksmith Services
At Lance the Locksmith we offer a comprehensive range of mobile locksmith services, providing same day service if required.
Lance the Locksmith is based in Lower Hutt, covers from Petone through to Upper Hutt, and comes to you.
We can help with:
Unlocking doors
Key cutting services
Rekeying locks
Removing broken keys
Installing deadbolts
Digital locks
Screen door locks, ranchslider locks and garage locks
Sheena Anglesey
20 July 2023
This locksmith is amazing!! Lance responded to our call for help promptly (unlike others we called) and was at our house to fix the lock within 15 mins. He calmly and cheerfully helped us fix the problem and we were sorted. Reasonable prices too. Very happy customer, fully recommend.
Kerrie Prentice
11 July 2023
Lance arrived exactly on time - no waiting around and had the news keys sorted very smartly. Fully recommend Lance the Locksmith.
Angus Deacon
23 April 2023
Lance was amazing - on time and incredibly efficient. He helped me install a smart lock (one that had been purchased elsewhere) after two places said they couldn't help. Highly recommend.
Eugene Winterburn
15 March 2023
Absolutely recommended 100%, next day service, turned up on time, great to deal with and talk too, knowledgeable and industry stalwart. Top job, very reasonable rates. Will not disappointment. Will use again and recommend. Thank you Lance.
Tim Savage
3 December 2022
Madeleine O'Donovan
19 November 2022
We got locked out of our house on a Saturday afternoon. Lance picked up our call straight away, was at our house within 15 minutes, and successfully got us back inside within another 15 minutes onsite. Lovely guy. Highly recommend!!!
Came out swiftly, charged such a good price we threw in an extra tip. Our door's lock was a stubborn bugger but after Lance was done with it, it actually works even better. Good yarns as well, probably the only locksmith I'll use.
Xukai Shi
6 September 2022
Amazing service!
Lance is highly professional and very reliable. He's always on time and knowledgeable. When I moved to my new home , I got him to changed all the locks for me. And I had called on him again for an emergency call out when our toilet door lock broke from the inside. We are so grateful that he came to our rescue. I highly recommend Lance for any locksmith jobs that you need done
I locked my keys and wallet in the garage so I couldn't get to work or even get into the building so i urgently needed help. I chose Lance because he quoted me significantly less than the other four places I'd contacted who were all charging an extra after hours fee because it was Sunday. Lance said he'd be there 45min but he was here in 30min and it took him maybe 60 seconds and he was in! He was professional, fast, friendly and I can't thank you enough!